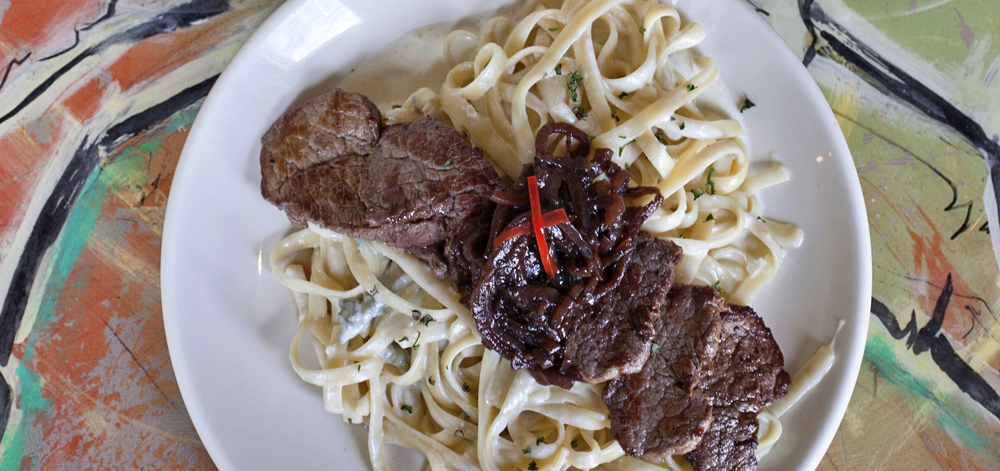 What's new!
-It's baby/bridal shower season…and graduations are upon us too! Are you planning a party or event? We can SO help with that. Hit us up.
-Every Tuesday, Wednesday, and Thursday, when your party buys a small plate and two entrees, you receive a complimentary bottle of wine. Cha-ching!
About Kaleidoscope Cafe
Kaleidoscope Cafe is where to go for delicious food and approachable fine dining.
The Long Story: Since its inception in 2010, Kaleidoscope Cafe has provided Pittsburghers with delicious, eclectic American fare in a casual, intimate environment. In 2012 the restaurant was voted by Pittsburgh Magazine readers as the city's "Best-Kept Secret" in dining. Formerly of Café du Jour, Chef Dan's primary goal is to create unique flavor combinations by utilizing classic techniques. For example, his popular duck cannoli marries tender, slow-roasted duck with a sweet white chocolate cardamom burre-blanc sauce inside a crispy cannoli shell. Tasty menu items, a bold, mural-covered exterior, and table tops designed by local artists all make Kaleidoscope Cafe an excellent choice when looking for an out-of-ordinary BYOB dining experience.
The Long Story, Short: Kaleidoscope Cafe serves delicious food to each person who walks through our doors. Pay us a visit and we'll love you. Give us a heads up before you arrive and we'll love you even more. (Reservations are recommended, but not required.) Bring your friends, bring some alcohol, and get ready to connect over some delicious food.
Image of our "Cow Jumped Over the Blue Moon Pasta" is courtesy of
Amy Lynne Photography and Design
.